01 May

SünDown : John Summit at Darna

Nü Androids presents: John Summit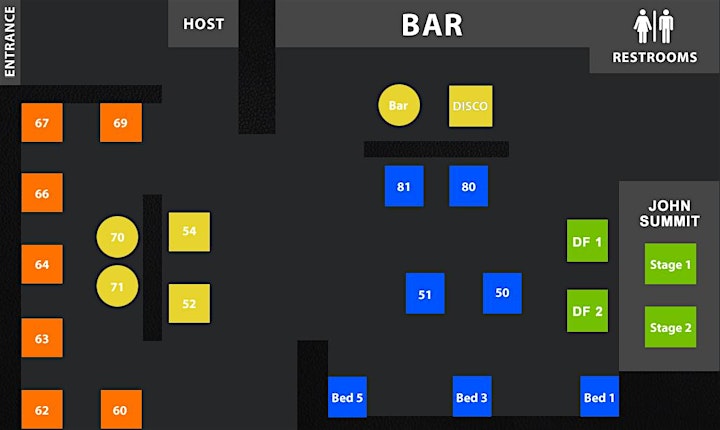 SünDown 2021 season is officially here! We wanted to make our kickoff extra special with an artist who we believe was the biggest emerging artist of 2020. Introducing Mr. Deep End himself, John Summit. We've been keeping an eye on him ever since the beginning of lockdown. During this time, we've watched his trajectory take flight as he's worked with some of our favorite artists in the game such as Lee Foss, MK, and Gorgon City. If he wasn't on your radar before, he should be now. John Summit is here to stay as he makes his DC debut during our first SünDown event of the year!
PSA: To heed CDC and local regulations there will be designated table areas per group. Again, we'll be doing everything to stay in line with the required health regulations. Come through, be safe and have a good time (responsibly) and work with with us on following CDC guidelines.
We will enforce the following guidelines for the safety of our patrons:
– Temperature checks for ticketed patrons, artists, and staff
– Hand sanitizer stations readily available
– Socially distanced table placement throughout the venue
– Masks required when not consuming beverages
– Limited table sizes of 4-6 people
More about John Summit:
Hailing from a city steeped in house culture, Chicago's John Summit has quickly become the hottest name in dance music following the release of 'Deep End' in June 2020 which became the longest-running Beatport #1 of the year, was named Pete Tong's Essential New Tune, and drew support from BBC Radio1's Annie Mac, Danny Howard, and MistaJam before making the Radio 1 main playlist.
Keenan:
Within the span of only a couple years, Keenan has made his mark in the electronic music scene. As an artist who is versatile in numerous genres ranging from tech-house to bass house to future bass, Keenan is always prepared to make the crowd move. Ever since his debut set back in 2017, Keenan has created an immense following of people who enjoy all different genres of music.
He has provided artist support to acts such as Chris Lake, Malaa, Walker & Royce, Mija, Dillon Nathaniel, Golf Clap, The Magician, Westend, Bijou, Moon Boots, Treasure Fingers, and Autograf to name a few.
Every set is completely unique due to the diverse amount of music he has obtained over the years. Keenan has quickly gained popularity within the area in such a short amount of time. His mastery in mixing allows him to seamlessly move between any song wherever, and whenever.